This article is a stub. Please help the Doom Wiki by expanding it.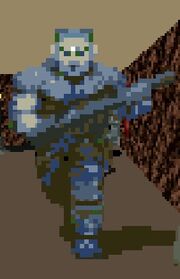 Zombie Lt. is the second version of the Zombie class encountered in Doom RPG. It is first encountered in Sector 2.
Doom RPG Monsters
Zombies
Commandos
Imps
Lost Souls
Pinkies
Cacodemons
Pain Elementals
Revenants
Mancubi
Arch-Viles
Barons
Hellhounds
Bosses
Community content is available under
CC-BY-SA
unless otherwise noted.