This article is a stub. Please help the Doom Wiki by expanding it.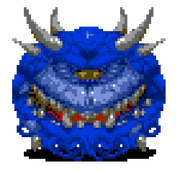 Wretched is the highest form of the Cacodemon class of demons. It is the strongest of the three Cacodemon variants, with the Malwrath being the weakest and the standard Cacodemon being the middle.
It is first encountered past the first blue door of Sector 5 in Doom RPG.
Doom RPG Monsters
Zombies
Commandos
Imps
Lost Souls
Pinkies
Cacodemons
Pain Elementals
Revenants
Mancubi
Arch-viles
Barons
Hellhounds
Bosses
Doom II RPG Monsters
Zombies
Commandos
Imps
Lost Souls
Pinkies
Cacodemons
Pain Elementals
Revenants
Mancubi
Arch-viles
Barons
Sawcubi
Watchers
Bosses