Roblox: DeepWoken - The Loop
Play Sound

This article is a stub. Please help the Doom Wiki by expanding it.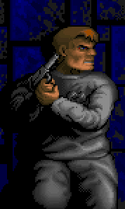 William Joseph "B.J" Blazkowicz is the main character of the Wolfenstein series. He is the great grandfather of the Doom Marine in the original games.
Connection to the Doom series
According to Tom Hall and John Romero, several id series are in fact connected. The Doom Marine is a Blazkowicz descended from Commander Keen, and William J. Blazkowicz before him[1][2] (this does not apply to the MachineGames reboot universe, however, which follows its own universe with an alternate history for B.J). This is also mentioned in Doom RPG games as well. (see ID multiverse timeline)
Background

William J. Blazkowicz was the son of Polish immigrants, and served during WWII. He fought in many campaigns and saved the world from the Nazis. In one campaign, William was sent to the future, where he fought a demonic entity in a UAC facility
In another campaign he fought the Harbinger of Doom, who vowed to destroy his descendents after being defeated by him. It's heavily implied that the creature would become the Cyberdemon.
Following the war he married an actress, their son was Arthur Kenneth Blaze, who became the father of William Joseph Blazkowicz II, better known as Commander Keen. His descendents, B.J. Blazkowicz and Stan Blazkowicz, saved Earth and the multiverse from incursions by demons from Hell. B.J III would be later known as the Doom Slayer.
Terror Billy
An alternate BJ Blazkowicz from an alternate reality where the Nazis won the Second World War appears in the MachineGames Wolfenstein series and Quake Champions. In the latter, he was brought from his particular universe in the multiverse to the Arena Eternal, and appears alongside the Doom Slayer. Commander Keen's twin son and daughter in the 2019 reboot are also named Billy and Billie Blaze, another nod to Blazkowicz.
References