Who am i?
I am one of the lead developers of Youtube Poop DooM. A total conversion I am working on with a few other modders.
But I'm also a Doomer who likes to make speedruns UV-MAXes etc.
Likes: Modding Doom Video Games Youtube Poop Team Fortress 2
Dislikes: Vandalizers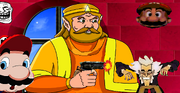 Youtube account
Oh yea by the way. If you want to see some of my Doom vids and news of the YTP mod.
Here is my YT account: http://www.youtube.com/user/Cacodemontube
About the mod
Youtube Poop Doom is currently in development. If your interested and you want be a developer too,
You can message me on my Youtube.