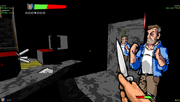 Urban Brawl Multiplayer Mod, is a Multiplayer modification for ZDoom that requires a copy of Action Doom 2: Urban Brawl developed by Doomworld community member "DMGUYDZ64" with permission from Scuba Steve, the Original lead developer of Action Doom 2, the goal of creating this is to Make Action Doom 2 Playable online for Multiplayer modes, As of 03/07/2015 The mod was 100% completed and was later updated to work for latest Zandronum version causing few more bugs to appear , It's commonly known as the 1st ever User made and Most known mod for Action DOOM 2 , While some bugs were not yet eliminated, Developer expects fixes for those small issues Soon.
Features
Contains full ACS Lib Source for Any one to use it for his/her own Mods .
Compatible with custom modifications and Levelpacks .
Updated and Fixed every MAP to make it playable co-operatively .
Fixed every secret to be accessible by every Player .
Removed death "Game Over" Messages and BlackScreens (fades) .
Updated and Fixed "Dead of Winter " levels for co-op .
Balanced weapons and added deathmatch obtuaries for Deathmatches .
Updated MAP01 for Deathmatch .
Removed all the Cutscenes so that Players will not freeze if a Cutscene is playing or anything else .
Fixed game HUDs to make them compatible for Multiplayer games .
Fixed few Multiplayer related bugs .
Fixed every Boss for Co-op by increasing their Health .
Improved Melee Pick-up .
Canceled/Cut features
Bonus levelpack for Hanging out .
Adding deathmatch starts and weapons for each level .
History
Development began back in May of 2015 with the goal of Providing a stable Multiplayability for Action Doom 2 on ZDoom, During the development several Bugs were spotted and dozens of Areas were only designed to be accessible for 1 Player so it has been decided that the levels will be exited automatically before reaching bosses .
Later on at the same year, Several patches and updates were released for the mod Introducing multiple new Features and bug fixes untill it was finally moved to Zandronum 2.1 , Which caused more bugs and crashes to show up ,By the middle of summer several Bonus maps and Winter maps were added in an unofficial way but quickly removed 2 Months later, However the only map that was left behind in a Playable state was Winter2 .
The mod ran through several dramatic updates ,changes and bug fixes till it Finally reached a Playable state by the end of November when each level has been successfully resurrected for Perfect Co-op ,By december Each feature has been successfully fixed for Zandronum v2.1.2, However the only bug that still exists till the current version is the Melee share, This means that only 1 Player in the entire game can Pickup the melee .
DMGUYDZ64 Who has been working alone on this mod and Making sure that everything works as expected has confirmed that he will no longer update this Mod since he's focusing on other Mods from now on, He included the ACS Lib Source as well as anything that a user may need to modify the mod in the Addon file .
Credits
Special thanks to :
Stephen Browning (Scuba Steve) for permission and Help with Menu design .
Isle for Providing the ACS Lib Sourcecode .
Action Team and anyone contributed in Action Doom 2 : Urban Brawl .
External Links