This article is a stub. Please help the Doom Wiki by expanding it.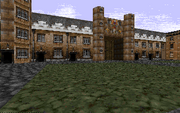 The Unholy Trinity, or Trinity College, is a single-level PWAD designed by Steve McCrea, Simon Wall, and Elias Papavassilopoulos. As part of their 10 Years of Doom feature, Doomworld named it one of the ten best WADs of 1994.
This map uses a large number of custom textures to create striking "photorealistic" buildings and courtyards, modeled on the real Trinity College in Cambridge, England. It also features an original animation sequence and a replacement music track, which is a partial rendition of "Toccata and Fugue in D Minor" by Johann Sebastian Bach.
Trinity was originally released on August 22, 1994 (as "TRINITY.WAD"). A second version ("TRINITY2.WAD") was released on September 4, 1994 to fix a bug regarding texture patches.
Walkthrough
Letters in italics refer to marked spots on the map. Sector numbers in boldface are secrets which count toward the end-of-level tally.
Essentials
Other points of interest
Secrets
(sector 81)
(sector 166)
Bugs
A minor HOM has been reported under Doom v1.2, which does not occur in v1.666.
Demo files
Areas / screenshots
Speedrunning
Routes and tricks
Current records
The records for the map on the Doomed Speed Demos Archive are:
Miscellaneous demos
| Run | Time | Player | Date | File | Notes |
| --- | --- | --- | --- | --- | --- |
| | | | | .zip | |
Deathmatch
Statistics
Map data
Things
This level contains the following numbers of things per skill level:
Technical information
The original WAD is not compatible with The Ultimate Doom. Steve McCrea created a patch ("TRINITYU.WAD") to address this compatibility issue and released it on September 13, 1995.
Inspiration and development
Rial Fletcher released a Doom II version ("D2TRINTY.WAD") on November 3, 1996. Olivier Montanuy released a Heretic version ("HTRINITY.WAD") on March 20, 1995 (not February 1994 as the readme text file claims), with the music track removed because it caused the game to crash.
Trivia
Sources
External links
Community content is available under
CC-BY-SA
unless otherwise noted.