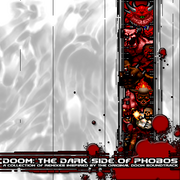 The Dark Side of Phobos or DSoP is an album of 23 songs, contemporary "rearrangements" of Doom music. The Dark Side of Phobos was a non-profit collaboration of musicians and lovers of Doom, the soundtrack of which having originally been composed by Robert Prince. The double disc album has each disc named after one of Mars' two moons, Phobos and Deimos.
The project was originally undertaken by Mikko "klm09" Nousiainen and began by having the participating artists pick tracks to recreate. After the effort collectively stalled months later, Navid Azeez was convinced to take over the reigns of the album on November 9, 2004 and later provided its title. The finished product was released and spotlighted as OverClocked ReMix's fifth Site Project on August 8, 2005 and slashdotted on August 9. As of April 9, 2011, the MP3 & FLAC CD album torrent has been downloaded over 32,000 times.
These files are free and available for download at the project's homepage.
Track listing
Disc 1: Phobos
| | Name | Arranger | Length | Original track |
| --- | --- | --- | --- | --- |
| 0 | Welcome to Hell | TO, pixietricks | 1:10 | |
| 1 | Hangarmageddon | Evil Horde | 4:08 | At Doom's Gate (E1M1) |
| 2 | The Red Moon | Sir NutS | 4:58 | Kitchen Ace (And Taking Names) (E1M4) |
| 3 | Industrial Strength | Joker | 4:12 | The Imp's Song (E1M2) |
| 4 | Mystery Meat | Nousentre | 4:46 | Untitled (E2M9) |
| 5 | The Leaning Tower of Babel | Evil Horde | 4:42 | Nobody Told Me About id (E2M8) |
| 6 | Reprocessed | Beatdrop | 3:37 | On The Hunt (E1M6) |
| 7 | Ghosts of Mars | Mythril Nazgul | 5:02 | They're Going To Get You (E2M4) |
| 8 | The Chemical Imps | RoeTaKa | 4:57 | Dark Halls (E1M3) |
| 9 | Demon Con Gusto | analoq | 4:08 | Deep Into The Code (E3M3) |
| 10 | This Can't Be Good | ArseAssassin | 5:16 | The Demons From Adrian's Pen (E2M2) |
| 11 | Jade Spawn | Bladiator, TO | 5:04 | Waltz Of The Demons (E2M7) |
Disc 2: Deimos
| | Name | Arranger | Length | Original track |
| --- | --- | --- | --- | --- |
| 12 | Intermission | TO | 0:57 | |
| 13 | Infiltrator | Evil Horde, RoeTaKa | 3:40 | I Sawed The Demons (E2M1) |
| 14 | Infected Lab | DJ Carbunkle | 2:40 | Demons On The Prey (E1M7) |
| 15 | Secrets and Lies | TO | 4:24 | Hiding The Secrets (E1M9) |
| 16 | The Glass Moon | DJ Carbunkle, Ryan8bit | 6:24 | Sign Of Evil (E1M8) |
| 17 | Ocean Pollen | RoeTaKa | 4:31 | Donna To The Rescue (E3M2) |
| 18 | Aria of the Damned | Hemophiliac, pixietricks | 3:38 | Sinister (E2M6) |
| 19 | Iron Cathedral | Prophecy | 2:13 | Facing The Spider (E3M8) |
| 20 | The Dark Side of Phobos | Daniel Baranowsky | 3:55 | Suspense (E1M5) |
| 21 | Darkness Dawning | Elsa Persson, Larsec | 4:13 | The End of DOOM (Victory Music / d_victor) |
| 22 | ElectroCute Bunny | TO | 4:07 | Sweet Little Dead Bunny (Endgame Music / d_bunny) |
Personnel
Navid Azeez ("Mythril Nazgul") – arranger, project director
Daniel Baranowsky – arranger
Lee Barber ("TO") – arranger
Lars Erhardt Christensen ("Larsec") – arranger, additional vocals on "Darkness Dawning"
Rafael Moniz Fonseca ("Mr. Firecracker") – album design
Jill Goldin ("pixietricks") – vocals, arranger
Karl Harmdierks ("Bladiator") – piano, arranger
Wes Harris ("Nousentre") – guitar, arranger
Tuomas Kanerva ("ArseAssassin") – arranger
Aaron Matthews ("analoq") – arranger
Jason Miller ("Prophecy") – arranger
Michael Molina ("Sir NutS") – arranger
Mikko Nousiainen ("klm09") – creator
Dain Olsen ("Beatdrop") – arranger
Elsa Persson – vocals
David Puga ("Joker") – arranger, album design
Alex Roe ("RoeTaKa") – arranger
Janne Roivainen ("Evil Horde") – arranger
Chris Roman ("Hemophiliac") – arranger
David J. Firth ("Claude") – album design
Matt Sabol ("DJ Carbunk1e") – arranger
Ryan Stern ("Ryan8bit") – guitar, arranger
Pex Tufvesson ("Mahoney") – additional vocals on "Darkness Dawning"
Aaron Wu ("Global-Trance") – website design
See also
External links and references