This article is a stub. Please help the Doom Wiki by expanding it.
Taras Nabad is the ninth level of the campaign in Doom Eternal.
Description
N/A
Objectives
Mission challenges
Man Made Wiki - Acquire 6 Codex entries.
Keeping Cool - Use the Ice Bomb to freeze 10 Demons.
Painkiller - Perform 3 different Glory Kills on Pain Elementals.
Achievements
Quick Travel Locations
City Outskirts
Atrium Plaza
Slayer Creation Chamber
Catacombs
Fallen Titan
Skyline
Throne Room
Central Power Core
Walkthrough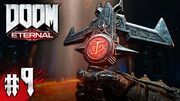 See also
Community content is available under
CC-BY-SA
unless otherwise noted.