This article is a stub. Please help the Doom Wiki by expanding it.
Taras Nabad is the ninth level of the campaign in Doom Eternal.
Description
N/A
Objectives
Mission Challenges
Man Made Wiki - Acquire 6 Codex entries.
Keeping Cool - Use the Ice Bomb to freeze 10 Demons.
Painkiller - Perform 3 different Glory Kills on Pain Elementals.
Milestones
Fast Travel Locations
City Outskirts
Atrium Plaza
Slayer Creation Chamber
Catacombs
Fallen Titan
Skyline
Throne Room
Central Power Core
Walkthrough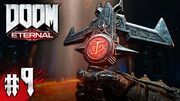 See also