Arcane: League of Legends - The Loop
Play Sound

This article is a stub. Please help the Doom Wiki by expanding it.
Super Gore Nest is the fifth level of the campaign in Doom Eternal.
Description
With the elimination of Deag Ranak, only one Hell Priest remains. As you prepare for the final encounter with the remaining Priest, your plans are interrupted by the Khan Maykr. In an attempt to ensure the consumption of the Earth, she has hidden the Priest and accelerated Hell's invasion of the planet. The increased number of demons overflowing from the Super Gore Nest threatens to overtake Earth - gain access to the nest and destroy it before it's too late.
Objectives
Destroy the Super Gore Nest

Reactivate the power 0/2
Reactivate the power 1/2
Reactivate the power 2/2
Turn on the generator
Mission challenges
N/A
Quick Travel Locations
Upper Area – Mixom Square
Upper Area – Star Mall
Upper Area – Vermilion Canal
Upper Area – Vorus Medical Plaza
Lower Area – Pumping Station C
Lower Area – Toxin Refinery
Lower Area – Argent Energy Station
Walkthrough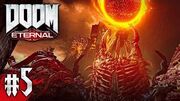 See also