Spectres are the partially invisible counterparts of Demons. Except for their blurry appearance, they are exactly the same in behavior and attributes and thus may be thought of as Demons who have a permanent partial invisibility power. In the Doom and Doom II manual, their description is: Great. Just what you needed. An invisible (nearly) monster. And in the PlayStation, Saturn and Doom 64 manual adds, These beasts will eat your face off, did you expect a walk in the park?
Spectres don't have frames of their own, as the Doom engine uses the same information used for Demons to account for them, which means the monsters share sprites.
Spectres appear as "shimmering" beings, like a lens which distorts and refracts the area seen through their translucent bodies, making them hard to spot in darker areas or against certain textures (such as grey speckled walls). However, in bright areas, they are noticeably visible and "spotty".
Data
Attributes
ID #
58 (decimal), 3A (hex)
Hit points
150
Speed
10 map units per frame
(175.0 map units per second)
Width
60
Height
56
Reaction time
8
Pain chance
180 (70.31%)
Pain time
4 tics
Mass
400
Bits
4194310
Bits list
1: Obstacle
2: Shootable
22: Affects Kill %
Sprites and sounds
Sprite name
SARG
Alert sound
DSSGTSIT
Action sound
DSDMACT
Pain sound
DSDMPAIN
Death sound
DSSGTDTH
Melee attack
Damage
4-40
Sound
DSSGTATK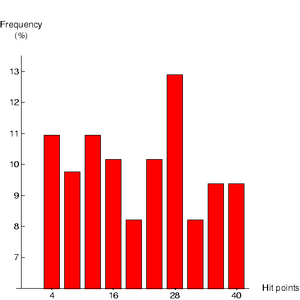 This table assumes that all calls to P_Random for damage, pain chance, and blood splats are consecutive. In real play, this is never the case: counterattacks and AI pathfinding must be handled, and of course the map may contain additional moving monsters and other randomized phenomena (such as flickering lights). Any resulting errors are probably toward the single-shot average, as they introduce noise into the correlation between the indices of "consecutive" calls.
Assumes that direct hits are possible, which does not occur in any stock map.
Appearance statistics
In classic Doom, the Spectre is first encountered on these maps:
The IWADs contain the following numbers of Spectres:
May be encountered earlier if the secret level is played.
Classic Doom Monsters
Doom introduction
Doom II introduction
PSN only
WAD only