This article is a stub. Please help the Doom Wiki by expanding it.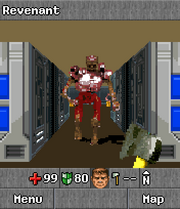 In Doom RPG, the Revenant appears as a class of monster. There are three variations, identified by color:
Ghoul (normal colors with green "pants" of blood)
Fiend (reddish combat gear with blue "pants" of blood)
Revenant (normal colors)
This monster explodes when it is killed and causes damage to any player, monster, or barrel adjacent to it. It is weak against rockets.
Doom RPG Monsters
Zombies
Commandos
Imps
Lost Souls
Pinkies
Cacodemons
Pain Elementals
Revenants
Mancubi
Arch-viles
Barons
Hellhounds
Bosses
Doom II RPG Monsters
Zombies
Commandos
Imps
Lost Souls
Pinkies
Cacodemons
Pain Elementals
Revenants
Mancubi
Arch-viles
Barons
Sawcubi
Watchers
Bosses