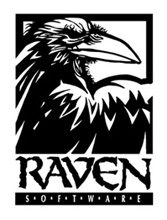 Raven Software is a computer game software development company based in Madison, Wisconsin. The company was founded in 1990 by brothers Brian and Steve Raffel. The company formed with five men, one computer, a basement and a vision of creating a role-playing game for the Amiga computer platform.
In 1997, Raven Software joined forces with Activision in a publishing deal to combine Activision's publishing and distribution resources with Raven Software's development team. The same year, six of Raven's developers left to create Human Head Studios: Chris Rhinehart, Paul MacArthur, Shane Gurno, Ben Gokey, James Sumwalt, and Ted Halsted.
Raven's history of working with id Software lead to them becoming the primary developers on two of id's properties; Quake 4, which was released on October 17th, 2005 for PC, and November 22nd for Xbox 360, and 2009's Wolfenstein, released on PC, Xbox 360, and PlayStation 3 on August 18th of that year. During his tenure at id, John Romero was the primary link between the two companies.
Since id's acquisition by ZeniMax_Media, Raven's affiliation with id has effectively terminated, as only companies which license through ZeniMax can utilize id's engines and technology, and Raven's products are published exclusively by Activision. Additionally, the Heretic and Hexen brands appear to remain with Activision and Raven, rather than id, although this appears to only apply to new products created within those brands (or new ports of the original products); id still has distribution rights over the original releases of 3 of the 4 games in those series (sans Heretic II, which id did not co-publish originally), and in fact publishes them on Steam.
Games
Raven Software developed two Doom engine games, and two Doom 3 engine games:
Raven Software also created Shadowcaster using a post-Wolfenstein 3D, but pre-Doom engine created by John Carmack, and sequels for Heretic and Hexen using the Quake engine. Other games released by Raven include the Soldier of Fortune series, Star Trek: Voyager - Elite Force, Star Wars: Jedi Outcast, Singularity and others.
External links
This article incorporates text from the open-content Wikipedia online encyclopedia article Raven Software.