Raise a Floppa - The Loop
Play Sound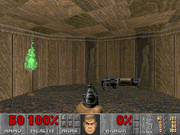 "Plasma Rifles shoot multiple rounds of plasma energy - frying some demon butt!"
― Doom instruction manual
The Plasma Gun (also known as the Plasma Rifle in the game manuals and help screen) is a futuristic weapon with a barrel that roughly resembles an accordion, which fires blue and white bursts of plasma. It shares the player's stock of cells with the BFG9000 as a source of ammo.
Notes
Appearances in other id Software games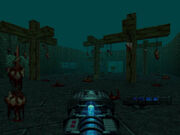 The Doom 64 plasma gun sprites are completely redrawn. It has a blue electric tube on top, which makes a constant buzzing sound. Like the shotguns, the recoiling animation is non-existent, likely to save cartridge space. Other than that, the "new" Plasma gun fires at a slightly slower rate. However, it does more damage per-shot in trade. While the overall effect is effectively the same damage-per-second, the Doom 64 Plasma Gun is more efficient with ammunition.
The plasma gun appears as a redesigned version in Quake III Arena, another game later developed by id Software. The Quake III plasma gun has a more streamlined, futuristic look with glowing plasma visible behind transparent parts. The plasma projectiles travel at a higher velocity and create a small radius of splash damage upon impact.
See also