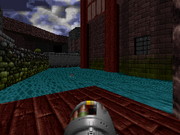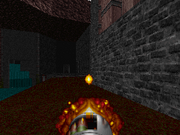 The Mini Missile Launcher is a weapon in Strife, and is equivalent to the Rocket Launcher in Doom and Doom II. The weapon is used both by the player and also by the Crusaders (in trios) and the Bishop (homing missiles). If compared to the Doom Rocket launcher, the rockets inflict less damage.
The weapon works as a regular missile weapon, firing small missiles which hum as they move along the air. It inflicts both direct damage and splash damage to nearby targets.
Picking up a Mini Missile Launcher will grant 8 Missiles. The maximum ammo capacity is initially 100, doubled to 200 if the player has collected an Ammo Satchel.
This weapon is first obtained at the power station for free.
Strife Items
Health
Armor
Weapons
Ammo

HE Grenades

Phosphorous Grenades

Powerups
Quest Items

10 Gold

25 Gold

50 Gold

Broken Power Coupling

Computer

Crystal

Degnin Ore

Ear

Gates Power Generator

Gold Coin

Guard Uniform

Offering Chalice (aka Red Chalice)

Officer Uniform

Oracle Pass

Prison Pass

Ring

Red Chalice

Keys

Base Key

Blue Crystal Key

Blue ID Card

Brass Key

Chapel Key

Core Key

Factory Key

Gold ID Badge

Gold Key

Mauler Key

Mine Key

Oracle Key

Order Key

Red Crystal Key

Severed Hand

Silver Key

Travel Passcard

Warehouse Key