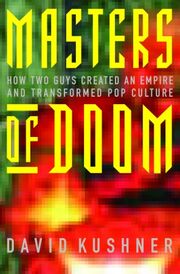 Masters of Doom: How Two Guys Created an Empire and Transformed Pop Culture is a book by David Kushner about id Software and its influence on popular culture, focusing chiefly on John Romero and John Carmack. Adopting a novel-like narrative, Kushner chronicles the lives of both men from childhood through the early successes of id Software through the new heights the company reached with Doom, to their separation as developers after Quake.
Kushner was an early entrant into the field of video-game journalism, and recycled some of his own original reporting in the book.
A budget film based on this book is currently in production.[1]
Editions
Hardcover: released on May 6, 2003 - 352 pages - ISBN 0375505245
Paperback: released on May 11, 2004 - 368 pages - ISBN 0812972155
Audiobook: released on May 15, 2012 - 12h 45m - Available through Audiobooks.com
See also
Sources
External links