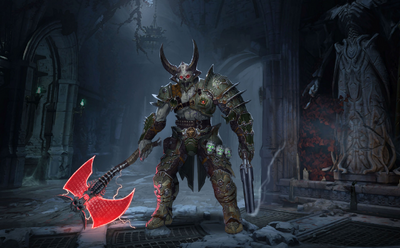 "You are nothing but a usurper - a false idol." - The Marauder addresses the Doom Slayer.
The Marauder is a mysterious demonic entity, and the secondary antagonist in the upcoming game Doom Eternal. He shares a suspiciously striking resemblance to the Doom Slayer.
Little is known about the Marauder currently. However, it has been confirmed that the Marauder has some deeper connection to the Doom Slayer. Given the similarity of his armor to the Slayer's Praetor Suit, he's likely a corrupted Night Sentinel.
Combat Characteristics
He is a defensive powerhouse, as the stats say. When the Doom Slayer is close to the Marauder, he will use his super shotgun. If the Doom Slayer is farther from the Marauder, he will use his axe. Attack when his eyes turn green, otherwise his axe will turn into a shield and block your atttacks. can use his axe to fire earthquakes at the Doom Slayer. The Marauders shield can block and deflect all attacks, you must get behind or freeze him to counter the shield. 
Equipment
Strategies 
A Strat pointed out during Markiplier's Doom Eternal Playthrough was: "The fastest way to kill the Marauder is by using the BFG, But you need to shoot him at the PERFECT TIME right when his eyes turm green. But, it is really difficult to do." -Hugo Martin
Gallery
Trivia
The Marauder bears some resemblance to Death Knight from the Quake games.
If one were to peer at his chest in the second Doom Eternal trailer, a series of dark purplish veins seem to eminate from where the red light on his chestpiece rests. It may imply that some parts of the armor - or at least, that particular piece - is fused to his very body.
It has also been confirmed that the Marauder will be a playable monster in Doom Eternal's BATTLEMODE game type.