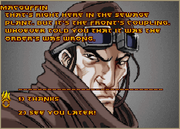 MacGuffin is a minor character from Strife. He is a fairly old man who is found near the "Sewage Plant" in an area referred to as "the Bum Hole" by Blackbird. The only time he appears useful in the story is during Governor Mourel's "messy" chore, where he can help the player complete the chore.
Trivia
A "MacGuffin" is a term invented by Alfred Hitchcock to describe anyone or anything that drives the plot without having any significance beyond that function. This perfectly summarises MacGuffin's role in this game.
Community content is available under
CC-BY-SA
unless otherwise noted.