This level occupies the map slot MAP57. For other maps which occupy this slot, see Category:MAP57.
MAP57: The Marshes is a secret map that appears in the PlayStation and Saturn versions of Ultimate Doom , which can be accessed from MAP29: Twilight Descends.
It was designed by Randy Estrella.
Walkthrough
This is a rather open-area level where many of the areas don't really contribute to the exit, with one exception. As soon as you walk out of the level and encounter the Cyberdemon, he'll be teleported to a small cage. If you plan to explore the level, make sure you don't get jumped by his attacks from there. However if playing on Ultra-Violence, he won't and alongside two Hellknights, making it somewhat more difficult if you are constantly having to snake through the trees.
Several imps also populate this rather small map as well as a smattering of weapons, including the Super Shotgun, which makes it the only level to feature it. Do be careful, when going to the main teleporters as one side of it will teleport you into the R.E room. You can never escape out of it and the only way is to use the crusher to force a restart.
Killing the Cyberdemon is the only way to open the exit as it will open near where you started.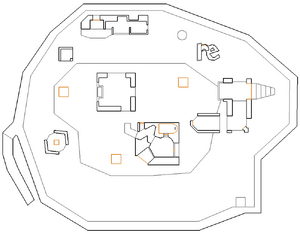 Secrets
Official
There are no official secrets in this level.
Non-official
1.In the area with the rocket launcher and 6 rocket boxes there are 4 openings; one of which has a small bridge leading to a small area containing a megasphere and a computer map.
2.In the megasphere area there is a skull on the wall. Flip it, walk through and you will be teleported to a small cave containing a BFG 9000. Can also be reached by walking on the border containing 8 rockets.
Bugs
There are no known bugs in this level.
Areas / screenshots
Statistics
Map data
Things
Trivia
This is the only level in any port of Ultimate Doom level that one will find a Super Shotgun.
This stage marks the first time a crushing ceiling is used in PlayStation/Saturn Doom.
There is a trap in this level: if the player uses the teleport which faces the entry area, they are teleported to a special area (which can also be reached by jumping from the Soul Sphere platform) where they cannot escape. Players can eather kill themself (there is a switch that will activate a crushing ceiling if needed) or use the pause menu to retry.
External links
Community content is available under
CC-BY-SA
unless otherwise noted.