This level occupies the map slot MAP32. For other maps which occupy this slot, see Category:MAP32.
MAP32: Ultimative Geheimnis (sic; ger. Ultimatives Geheimnis = ultimate secret) is the second secret map of Whispers of Satan. It was designed by Paul Corfiatis, who also wrote the music track for this level, "Evil Incarnate (Remix)".
This level contains a secret level exit to MAP35: Ein Lustiger Ort. Normally completing this level takes the player to MAP16: Undervilla.
Walkthrough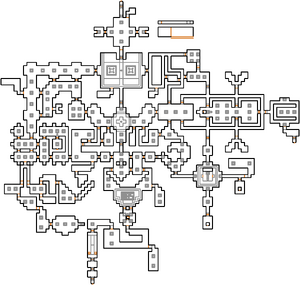 Letters in italics refer to marked spots on the map. Sector numbers in boldface are secrets which count toward the end-of-level tally.
Secrets
1. In the room with the yellow key switch, push the Nazi flag on the lefthand side of the back wall to open a passage. Go through this passage.
Same as secret 1, but on the right.
In Secret 1, push the wall next to Adolf Hitler's picture on the left wall
Turn your back to the yellow key switch room. To the right of the yellow key is a dead tree. On the opposite wall, you'll see an eagle. Push the wall next to the eagle to open this secret.
Push the Nazi flag on the lefthand side of the back wall in the red key switch room (like Secret 1, but in a different room).
Same as Secret 5, but on the righthand side of the back wall.
Where Secrets 5 and 6 are: go to the end of the passage. The blue wall to the right of the door there opens to reveal cells and the exit to Map 35.
Go to the red brick wall with the eagle on it in the red key room. Go through the door and make a left. Push the eagle banner on the lefthand wall to reveal this secret
Push the Nazi flag in the grey hallway to the right of the room where you find the blue key.
Where the rocket launcher is in the lava pool, push the eagle at the end of the hallway.
In the room with all the SS guys, push the blue wall to the left of the ammo clips.
On the way to the room with the switch that lowers the blue key, push the eagle on your right when you're in the brick hallway.
Push on the swastika banner in the room with all the demons.
Open the middle part of the blue wall
Keep pushing walls in Secret 15
See Secret 16
See Secret 16
See Secret 16
See Secret 16
See Secret 16
See Secret 16
See Secret 16
See Secret 16
Open the righthand wall furthest from the door in the room that needs the blue key.
Secret exit
Statistics
Map data
Things
Community content is available under
CC-BY-SA
unless otherwise noted.