This level occupies the map slot MAP32. For other maps which occupy this slot, see Category:MAP32.
MAP32: Super Secret is the second secret map of the megawad Scythe 2 and can be accessed via MAP31: Secret. It was designed by Erik Alm and uses the music track "Intermission from DOOM" from Ultimate Doom E2M3.
Description
In a concept similar to Ultimate Doom's E3M9, the first half of MAP32: Super Secret achieves complete similarity to the first map of the original Scythe, with the one difference being the sky.
The level keeps this going until player reaches the would-be exit of Scythe's MAP01, at which the player notices a wall lowering to reveal a BFG 9000 and cells. From here, the difficulty raises as the formerly Trooper and Imp occupied map is filled with much more powerful enemies. New paths that branch off the original layout open, which the player must make his way through to complete the level.
[[file: |thumb|300px|Map of **]]

Walkthrough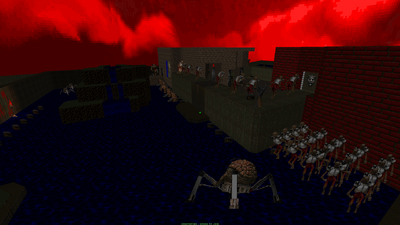 Secrets
As you start the map you will see a Chainsaw infront of you next to a corner, simply pick that up (Reward: Chainsaw)
Once you make it on top of the green wall, where there is a switch located there that lowers the wall to the outer water area, dont just press the switch yet instead, explore the top of the wall until you reach the end point, *if you alrdy pressed the switch there is still a possibility of speed running over the hole (Reward: Megasphere)
Speedrunning
See:
Statistics
Map data
Things
Scythe 2 Maps
Community content is available under
CC-BY-SA
unless otherwise noted.