This level occupies the map slot MAP31. For other maps which occupy this slot, see Category:MAP31.
MAP31: Space Station Skywalker is the first secret map of Whispers of Satan. It was designed by Paul Corfiatis, who also wrote the music track for this level, "Space Wars II".
This level contains a secret level exit to MAP32: Ultimative Geheimnis.
Walkthrough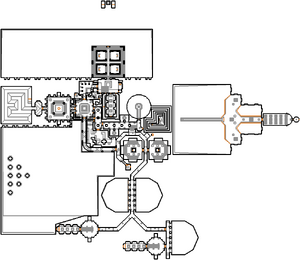 Letters in italics refer to marked spots on the map. Sector numbers in boldface are secrets which count toward the end-of-level tally.
Secrets
Go through the first door and kill every monster you see. Go through the second door and repeat. Shoot the button behind the imp on your left (when you enter the second room), then go back to the first room. A section of the wall has opened to reveal a chainsaw and a backpack.
In the room with the blue key, jump down and find a passage. Follow this to find four backpacks, 1 archvile and a switch. Push this switch to open the secret exit.
After getting the blue key, open the wall to the left of the middle pillar to obtain a soulsphere.
In the Y-shaped hallway near the end, go left and through the door. Massacre every demon stupid enough to get in your way, push the switch at the end and go back to the hallway. A door at the end of the hallway has opened, revealing a megasphere and some cell packs.
In the room where the switch fot Secret #1 is, open the second silver door on your right. You'll enter a room full of crates. In here, turn left from the door and approach two enormous crates on top of one another. Open them to find a passage. Follow it to the end to find some Star Wars posters and an megasphere.
Secret Exit: if you pushed the switch in secret 2, you'll see a door in the starting room with a "?" on the floor in front of it. Go through this door to enter the secret exit area.
Statistics
Map data
Things
Community content is available under
CC-BY-SA
unless otherwise noted.