This level occupies the map slot MAP31. For other maps which occupy this slot, see Category:MAP31.
MAP31: Secret is the secret map of the megawad Scythe 2. It was designed by Erik Alm and uses the music track from map01 of DWANGO5. It features the evil marine, and of course it has an entry to the super secret map, MAP32: Super Secret. One additional advantage of finding the secret levels in Scythe 2 is that the player does not lose his weapons when going into episode 3.
Strategy
[[Image: |thumb|300px|Map of **]]

Walkthrough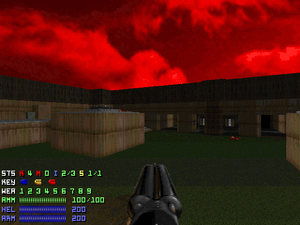 Secrets
To find the supersecret exit, you must obtain all three keys and then get to the area with the alternative exit on the northwest side of the map within 11-12 seconds. This is very hard to do and requires extreme speedrunning. If you take too long, you will be foreced to take the normal exit to Map16.
Speedrunning
Routes and tricks
Records
The Compet-N records for the map are:
Statistics
Map data
Things
Trivia
See also
External links