(27 intermediate revisions by 6 users not shown)
Line 1:
Line 1:
⚫
 
 

{{map|slot=MAP31}}

 

{{map|slot=MAP31}}

 
⚫

'''MAP31: Secret''' is the secret map of the [[megawad]] [[Scythe 2]]. It was designed by [[Erik Alm]] and uses the [[music]] track . It features the evil marine, and of course it has an entry to the super secret map, [[MAP32: Super Secret (Scythe 2)|MAP32: Super Secret]]. One additional advantage of finding the secret levels in Scythe 2 is that the player does not lose his weapons when going into episode 3.

 
 
 
+

The Music is called *Hit the Floor-Modified*

⚫

'''MAP31: Secret''' is the secret map of the [[megawad]] [[Scythe 2]]. It was designed by [[Erik Alm]] and uses the [[

music|

music]] track

" "

. It features the evil marine, and of course it has an entry to the super secret map, [[MAP32: Super Secret (Scythe 2)|MAP32: Super Secret]]. One additional advantage of finding the secret levels in Scythe 2 is that the player does not lose his weapons when going into episode 3.

 
 
 
 
+

[[file: |thumb|300px|Map of **]] <br clear="left"/>

−

==Strategy==

 
 
⚫
−
 
−

[[Image: |thumb|300px|Map of **]] <br clear="left"/>

+

[[:|thumb|300px|]]

−
 
−
 
⚫
 
−

[[Image:Scythe2-map31.png|thumb|300px|MAP31]]

 
 
 
 

===Secrets===

 

===Secrets===

 
+

# The area where you enter the level counts as a secret.

 
+

Secret Exit: To find the supersecret exit, you must obtain all three keys and then get to the area with the alternative exit on the northwest side of the map within 11-12 seconds. This is very hard to do and requires extreme speedrunning. If you take too long, you will be foreced to take the normal exit to Map16. (1 player online attempt is even more hard)

 
 
 
+

The best way to do this is to ignore the enemies unless they're directly in your path and run for the yellow key first. Taking a right out of the entryway is faster, since the crate won't be in your way. Go for the blue key next, then the red key last, so that you can quickly jump off and open the door to the exit. Fortunately it will stay open once it's open, so you can go back and mop up the enemies and collect the items.

−

#

 
−
 
 
 
 

==Speedrunning==

 

==Speedrunning==

−
 
−

===Routes and tricks===

 
−
 
 

===Records===

 

===Records===

−
 
 

The [[Compet-N]] records for the map are:

 

The [[Compet-N]] records for the map are:

 
 
 
+

{| class="WikiaTable"

−

{| {{prettytable}}

 
 

!Run||Time||Player||Date||File||Notes

 

!Run||Time||Player||Date||File||Notes

 

|-

 

|-

−

|[[UV speed]]|| || || ||{{competnftp|**|**}}||

+

|[[UV speed]]|| || || ||{{competnftp|**|**}}||

 

|-

 

|-

 

|[[NM speed]]|| || || || ||

 

|[[NM speed]]|| || || || ||

Line 49:
Line 42:
 

===Map data===

 

===Map data===

 
 
 
+

{| class="WikiaTable"

−

{| {{prettytable}}

 
−

|[[Things]]||

+

|[[Things]]||

 

|-

 

|-

−

|[[Vertices]]||

+

|[[Vertices]]||

 

|-

 

|-

−

|[[Linedefs]]||

+

|[[Linedefs]]||

 

|-

 

|-

−

|[[Sidedefs]]||

+

|[[Sidedefs]]||

 

|-

 

|-

−

|[[Sectors]]||

+

|[[Sectors]]||

 

|}

 

|}

 
 
 

===Things===

 

===Things===

 
 
 
+

{| class="WikiaTable"

−

{| {{prettytable}}

 
−

!Monsters||[[I'm Too Young To Die|ITYTD]] and [[Hey, Not Too Rough|HNTR]]||[[Hurt Me Plenty|HMP]]||[[Ultra-Violence|UV]] and [[Nightmare!|NM]]

+

!Monsters||[[I'm Too Young To Die|ITYTD]] and [[Hey, Not Too Rough|HNTR]]||[[Hurt Me Plenty|HMP]]||[[Ultra-Violence|UV]] and [[Nightmare!|NM]]

 

|-

 

|-

−

|[[Arachnotron]]s|| || ||

+

|[[]]|| || ||

 

|-

 

|-

 
⚫
−

|[[Arch-Vile]]s|| || ||

 
 

|-

 

|-

−

|[[Baron of Hell|Barons of Hell]]|| || ||

+

|[[ ]]|| || ||

 

|-

 

|-

−

|[[Cacodemon]]s|| || ||

+

|[[]]s|| || ||

 

|-

 

|-

−

|[[Chaingunner]]s|| || ||

+

|[[]]s|| || ||

 

|-

 

|-

 
⚫
−

|[[Commander Keen]]s|| || ||

 
 

|-

 

|-

−

|[[Cyberdemon]]s|| || ||

+

|[[]]s|| || ||

 

|-

 

|-

−

|[[Demon]]s|| || ||

+

|[[]]s|| || ||

 

|-

 

|-

 
⚫
−

|[[Hell Knight]]s|| || ||

 
 

|-

 

|-

−

|[[Icon of Sin]]|| || ||

+

|[[ of ]]|| || ||

 

|-

 

|-

 
⚫
−

|[[Imp]]s|| || ||

 
 

|-

 

|-

−

|[[Lost Soul]]s|| || ||

+

|[[ ]]|| || ||

 

|-

 

|-

−

|[[Mancubus|Mancubi]]|| || ||

+

|[[|]]|| || ||

−

|-

 
−

|[[Pain Elemental]]s|| || ||

 
−

|-

 
−

|[[Revenant]]s|| || ||

 
−

|-

 
−

|[[Sergeant]]s|| || ||

 
−

|-

 
−

|[[Spectre]]s|| || ||

 
−

|-

 
−

|[[Spider Mastermind]]s|| || ||

 
−

|-

 
−

|[[Trooper]]s|| || ||

 
−

|-

 
−

|[[Wolfenstein SS]]|| || ||

 
−

|-

 
⚫
 
−

|-

 
−

|[[Spiritual armor|Armor bonuses]]|| || ||

 
−

|-

 
−

|[[Backpack]]s|| || ||

 
−

|-

 
−

|[[Berserk pack]]s|| || ||

 
−

|-

 
−

|[[Blue armor]]s|| || ||

 
−

|-

 
−

|[[Computer map]]s|| || ||

 
−

|-

 
−

|[[Green armor]]s|| || ||

 
−

|-

 
−

|[[Health potion|Health bonuses]]|| || ||

 
−

|-

 
−

|[[Blur artifact|Invisibilities]]|| || ||

 
−

|-

 
−

|[[Invulnerability|Invulnerabilities]]|| || ||

 
−

|-

 
−

|[[Light amplification visor|Light goggles]]|| || ||

 
−

|-

 
−

|[[Medikit]]s|| || ||

 
−

|-

 
−

|[[Megasphere]]s|| || ||

 
−

|-

 
−

|[[Radiation suit]]s|| || ||

 
−

|-

 
−

|[[Soul Sphere]]s|| || ||

 
−

|-

 
−

|[[Stimpack]]s|| || ||

 
−

|-

 
⚫
 
−

|-

 
−

|[[Chainsaw]]s|| || ||

 
−

|-

 
−

|[[Shotgun]]s|| || ||

 
−

|-

 
−

|[[Super shotgun]]s|| || ||

 
−

|-

 
−

|[[Chaingun]]s|| || ||

 
−

|-

 
−

|[[Rocket launcher]]s|| || ||

 
−

|-

 
−

|[[Plasma rifle]]s|| || ||

 
−

|-

 
−

|[[BFG 9000]]s|| || ||

 
−

|-

 
⚫
 
−

|-

 
−

|[[Ammo clip]]s|| || ||

 
−

|-

 
−

|[[Box of ammo|Bullet boxes]]|| || ||

 
−

|-

 
−

|[[Shell]]s|| || ||

 
−

|-

 
−

|[[Box of shells|Shell boxes]]|| || ||

 
−

|-

 
−

|[[Rocket]]s|| || ||

 
−

|-

 
−

|[[Box of rockets|Rocket boxes]]|| || ||

 
−

|-

 
−

|[[Energy cell]]s|| || ||

 
−

|-

 
−

|[[Bulk cell]]s|| || ||

 
−

|-

 
⚫
 
−

|-

 
⚫
 
−

|-

 
−

|[[Blue skull key|Blue skulls]]|| || ||

 
−

|-

 
−

|[[Red keycard|Red cards]]|| || ||

 
−

|-

 
−

|[[Red skull key|Red skulls]]|| || ||

 
−

|-

 
−

|[[Yellow keycard|Yellow cards]]|| || ||

 
−

|-

 
−

|[[Yellow skull key|Yellow skulls]]|| || ||

 
 

|-

 

|-

 
⚫
 

|}

 

|}

 
 
 
⚫
−

==Trivia==

 
−
 
−
 
−

==See also==

 
−
 
−

*

 
 
 
 
+

[[Category:Levels by name|Secret (Scythe 2)]]

−

==External links==

 
 
+

[[Category:Secret levels]]
---
Latest revision as of 04:37, 23 March 2020
This level occupies the map slot MAP31. For other maps which occupy this slot, see Category:MAP31.
MAP31: Secret is the secret map of the megawad Scythe 2. It was designed by Erik Alm and uses the music track from map01 of DWANGO5. It features the evil marine, and of course it has an entry to the super secret map, MAP32: Super Secret. One additional advantage of finding the secret levels in Scythe 2 is that the player does not lose his weapons when going into episode 3.
The Music is called *Hit the Floor-Modified*
[[file: |thumb|300px|Map of **]]

Walkthrough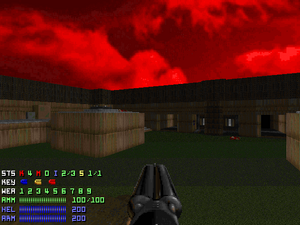 Secrets
The area where you enter the level counts as a secret.
Secret Exit: To find the supersecret exit, you must obtain all three keys and then get to the area with the alternative exit on the northwest side of the map within 11-12 seconds. This is very hard to do and requires extreme speedrunning. If you take too long, you will be foreced to take the normal exit to Map16. (1 player online attempt is even more hard)
The best way to do this is to ignore the enemies unless they're directly in your path and run for the yellow key first. Taking a right out of the entryway is faster, since the crate won't be in your way. Go for the blue key next, then the red key last, so that you can quickly jump off and open the door to the exit. Fortunately it will stay open once it's open, so you can go back and mop up the enemies and collect the items.
Speedrunning
Records
The Compet-N records for the map are:
Statistics
Map data
Things
Scythe 2 Maps