This level occupies the map slot MAP29. For other maps which occupy this slot, see Category:MAP29.
MAP29: Ticket to Eternity is the twenty-ninth map of Plutonia 2. It was designed by Adolf Vojta (Gusta) and Pavel Tvrzník (Pipicz), and uses the music track "The Hunt" by Jamie Robertson.
Walkthrough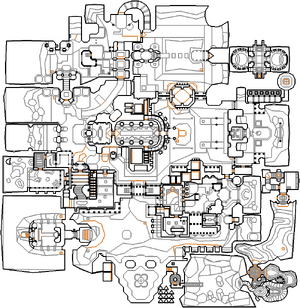 Letters in italics refer to marked spots on the map. Sector numbers in boldface are secrets which count toward the end-of-level tally.
Other points of interest
To the left of the start is a hallway with six windows, each containing a Commander Keen and a shoot-to-activate switch. However, at the start of the level only one Keen is open to kill; the other 5 must be opened by finding and killing 5 more hidden Keens scattered throughout the rest of the level.
Once the player has found (and killed) the five hidden Keens and activated all 6 switches, the chamber at the end of the hallway will open. Inside is a teleporter to a secret chamber with a "thank you" message from the developers and a list of level design and music credits, as well as three Supercharges.
Secrets
From the map start, exit the cave to the east. Enter the room in the south of this area and exit it through the western door. Outside, turn to the south again and enter the next door. Strictly go south past the lava "pool" to an arachnotron on a platform (that is in the east of the invulnerability sphere and a invisibility sphere). The wall east of the arachnotron has a baron's face on it. Lower it to find a blue armor.
Statistics
Things
Plutonia 2 Maps
Regular Maps
MAP29: Ticket to Eternity
Secret Maps
Community content is available under
CC-BY-SA
unless otherwise noted.