This level occupies the map slot MAP29. For other maps which occupy this slot, see Category:MAP29.
MAP29: Temple of Fear, designed by Haggay Niv, is the twenty-ninth map of Hell Revealed.
Description
According to the Hell Revealed info pack:
This is a large temple level. It had about 5 different versions before Haggay was satisfied from the end result. Even the last version took two months to build. The pentagram was designed with precise calculations of sines and cosines to create a perfect pentagram, so please appreciate the effort.
Size: large
Difficulty: medium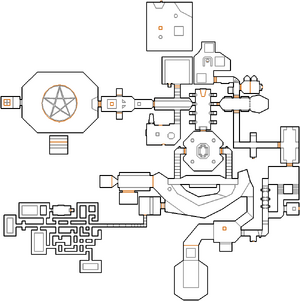 Walkthrough
Secrets
From the first larger area you can enter an adjacent room with some Former Human Commandos and a small pool of blood across. The south wall on the far side of the bloodstream opens. Behind it lies a pitch-black maze that won't show on automap - not even with a Computer map. To make things worse there are some larger rooms with hurting pits with no escape, so be careful! At least there are no monsters in this maze. Sticking consequently to the right wall you will eventually enter a lit room with many goodies: 1 Soul sphere, 1 Bulk cell, 1 Combat armor and 19 Backpacks). This room is the actual secret.
When you reach a room with an octagonal pillar (from where an Archvile attacks) and 5 bookshelfs on the northern wall, press one of the shelfs to open a door in the northwest corner of that room. It contains a Rocket launcher.
Speedrunning
See:
Statistics
Map data
Things
Community content is available under
CC-BY-SA
unless otherwise noted.