This level occupies the map slot MAP29. For other maps which occupy this slot, see Category:MAP29.
MAP29: Heated Trauma is the twenty-ninth map of Whispers of Satan. It was designed by Paul Corfiatis, who also wrote the music track for this level, "The Secrets of Hell".
Walkthrough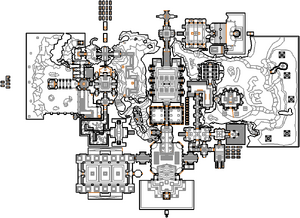 Letters in italics refer to marked spots on the map. Sector numbers in boldface are secrets which count toward the end-of-level tally.
Secrets
In the ighthand switch room, open the first wall on the right for some armour bonuses and a soulsphere.
After you press the red skull switch, you'll come to a courtyard with a building and lots of monsters. Kill them, then open the wall to the right of the building and follow the passage to a room. This room has a platform in it. Jump onto the platform to trigger the secret and get a megasphere and some cells.
In the room with the blue keycard teleporter in the middle, go through the big door. You'll come to a large lava area. Jump off the right-hand side of the bridge and hurry to the first "island" you see. Open the wall behind the "all-seeing eye" on this island to open a passage to a megasphere.
This is after the teleporter to where the blue skull key is: go along the walikway to the building on the cliff. Kill every monster stupid enough to get in your way, then go behind the building. There's a ledge a bit below you. Jump on that ledge and take the teleporter there. You'll end up on a ledge just above the walkway. There's a door here that has lots of ammo behind it
The last bit of wall on the left just before you enter the area with the cyberdemon and the exit door can be opened for an invulnerability sphere.
Statistics
Map data
Things
Community content is available under
CC-BY-SA
unless otherwise noted.