This level occupies the map slot MAP28. For other maps which occupy this slot, see Category:MAP28.
MAP28: Excavations is the twenty-eighth level of Icarus: Alien Vanguard. It was designed by Steven Phares, and uses the music track "FastTrack" by Tom Mustaine. It is notorious as the hardest level in the megawad, due to an incredible shortage of ammo in proportion to the amount of enemies.
Walkthrough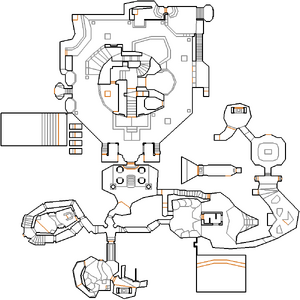 Letters in italics refer to marked spots on the map. Sector numbers in boldface are secrets which count toward the end-of-level tally.
Secrets
At the center of the map is a bucket containing breadsticks, held by chains. Walk through it to obtain a megasphere. (sector 223)
In the same building as secret #1, enter the westernmost silver door, and flip the switch to lower an elevator in east. Run over and take this elevator to find a stimpack, a bulk cell, and a plasma rifle. At the north is a step that lets you climb onto the ledge; from there, drop from the northernmost side, and you will land on a ledge with combat armor. (sector 330)
Speedrunning
Current records
The records for the map on the Doomed Speed Demos Archive are:
Miscellaneous demos
Statistics
Map data
Things
Inspiration and development
I play tested the level until I was completely confident that you pretty much only had enough ammo in the level to half whatever supplies a standard player had leftover from map 27.
The concept was more along the lines of removal of any significant gain made by the player up to that point in the game. Hence the name, Excavations. The setting of the map reflected this concept. I never really made this public to the rest of the team at that time, it was more of a private joke. I was constantly told by the others on the team that there wasn't enough ammunition in the level, and against my wishes, my father eventually doubled the amount on the map before release, to my cries of, "screw em, real men punch shit to death!"
-steven
External links
Icarus Maps
Secret Maps
Community content is available under
CC-BY-SA
unless otherwise noted.