This level occupies the map slot MAP27. For other maps which occupy this slot, see Category:MAP27.
MAP27: Halls of Cocytus is the twenty-seventh map of Whispers of Satan. It was designed by Kristian Aro, who also wrote the music track for this level, "Cryonic Dreams".
Walkthrough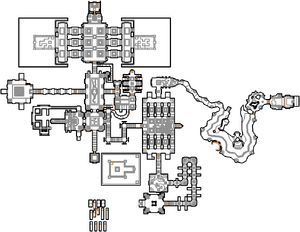 Letters in italics refer to marked spots on the map. Sector numbers in boldface are secrets which count toward the end-of-level tally.
Secrets
In the room with the red key, the area with the soulsphere counts as a secret. To reach it, do this: Get the blue key first and go back the way you came. You'l see that a wall has opened, revealing a Baron of Hell and a teleporter. Kill the Baron, take the teleporter and flip the switch i the new area. Teleport back and you'll see that the wall opposite the teleporter is now open. Go through there and follow the passage to get the soulsphere.
There is a passage in the large central room that leads to an invulnerability sphere. The passage counts as a secret.
In the starting room is an eye on the left wall. Push it to open the wooden panel in the next room. Run towards the panel and go through this door to the end. Push the switch there, kill all the imps and go back upstairs. The niche opposite you is now open, revealing some blue armour guarded by an Archvile. Kill him, then jump into the niche and grab the armour to register the secret.
In the library, the first niche on the righthand wall has a wall that can be opened for a secret.
Statistics
Map data
Things
Trivia
In Greek mythology, Cocytos was one of five rivers in the underworld and the second one the dead had to cross. The name translates to "River of Laments".
Community content is available under
CC-BY-SA
unless otherwise noted.