This level occupies the map slot MAP27. For other maps which occupy this slot, see Category:MAP27.
MAP27: Anti-Christ is the twenty-seventh map of The Plutonia Experiment. It uses the music track "I Sawed The Demons" from Doom. In some ways this level is a "spiritual sequel" to several Doom II's later levels that involve large subterranean areas where most of the action takes place on narrow ledges and pillars high above damaging floors.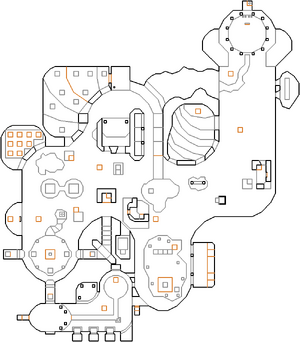 Walkthrough
It's actually possible to kill the hidden Arch-Vile who constantly resurrects the Chaingunner by shooting rockets into the cage where the Chaingunner stays. The key is to shoot from the proper place. To succeed, you must teleport to the room with the teleporter which has the Super Shotgun on it (you must take the teleporter at the end of the room behind the door which you can gain access to after obtaining the Yellow Key, and then take the teleporter in the platform with the switch, after pressing it) and stand on the south-east-located window; then you can shoot. The splash damage will be received by the Arch-Vile, although it may take several rockets.
Secrets
Official
At the very start of the level, turn due east and walk off the platform you stand on. You should land on a lower platform with some goodies on it. The teleporter takes you back to the start point.
At the southwest corner of the map is a round, gray-floored room with a green window. There is an alcove with a backpack in it to the west; pick up the backpack and a teleporter will lower. On the other side of the teleporter, turn around and you'll see a brown platform with a combat armor above it. Run onto the platform and ride the lift up to the armor on a higher ledge.
Once on the ledge the armor was on in secret #2, follow the ledge around to a part of the brown stone wall that is crumbling. Open it and gently drop down onto another ledge. From here you can run south to get a soul sphere.
Non-Official
In the southeast of the yellow skull key is an opening in the wall. There is a radiation shielding suit (and on medium and hard skills a mancubus) inside. Open the cracked wall next to the suit to find a hidden alcove, containing a berserk pack and a teleporter that ports you to an invulnerability sphere.
Screenshots
Speedrunning
Records
The Compet-N records for the map are:
Statistics
Map data
Things
External links
Plutonia Maps
Secret Maps
Community content is available under
CC-BY-SA
unless otherwise noted.