This level occupies the map slot MAP26. For other maps which occupy this slot, see Category:MAP26.
MAP26: Dark Dome is the twenty-sixth map of Alien Vendetta. It was designed by Anders Johnsen and uses the music track "Into Sandy's City" from Doom II. It was one of the few maps to remain unchanged from the first release to the second.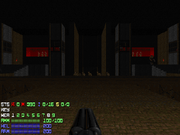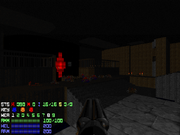 Walkthrough
Secrets
There is a smaller water-floored area on the east side of the main area, accessed through either of two short, low tunnels (a room full of Revenants opens when you enter the area). In the northwest corner of this area, there's a small opening between two raised platforms; an invulnerability sphere is visible atop one of them. Go through the gap between these two platforms and you'll see a red square on the far wall. Shoot this square, then return to the southern half of this room. A bar blocking a staircase leading up out of the water has been raised (the staircase is located just south of the northern entrance tunnel). At the top of the stairs are two teleporters, both leading to platforms with Arch-Viles on them in the main area - if you haven't killed these Arch-Viles, you will likely telefrag them. One of the platforms has a blur sphere on it, the other an invulnerability sphere.
There is another smaller water-floored area off the main room, this one to the south; accessed by torch-lined tunnels to the far east and west, and a third, larger entryway in the center. Go as far east as you can in this area, where you'll see a large, roughly triangle-shaped patch of gray rock in the otherwise brown-colored rock wall. You can see some cracks in a nearby (brown) wall; open this wall and flip the switch behind it to lower the gray wall. Inside is a motherlode of soul spheres.
At the farthest south point of the map, up the stairs from where secret #2 was, are three rooms connected by archways. Go into the center room, where you can see a soul sphere atop a waterfall. To reach this secret, you'll first need to step into the pool of water in front of you - but be forewarned that this causes three cyberdemons to rise from the water. Once they have been dealt with, go back into the water and look on the wall on the left. Part of the brown dirt wall has a larger "grain" than its surroundings; open it to reveal a teleporter to the top of the waterfall.
Speedrunning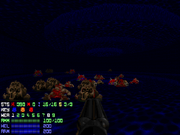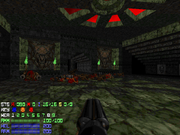 Records
The Compet-N records for the map are:
Statistics
Map data
Things
Community content is available under
CC-BY-SA
unless otherwise noted.