This level occupies the map slot MAP26. For other maps which occupy this slot, see Category:MAP26.
MAP26: Afterlife, designed by Yonatan Donner with some ideas from Haggay Niv, is the twenty-sixth map of Hell Revealed. It is one of a few Doom II levels which make intentional use of ghost monsters, created by having an Arch-Vile resurrect a monster who has been crushed.
Description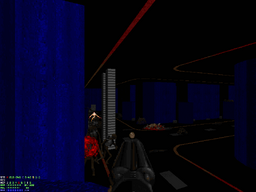 According to the Hell Revealed info pack:
In this mysterious map you'll find yourself floating among the stars. There are two rifts in space near you. Your mission is to go through them and enter their dimensions, and destroy them. After you destroy all the living, the dead will come after you... to kill the ghosts, either make them hit another monsters and that monster can scratch them to death, or use the blast damage of an explosion to make them rest again. Don't be afraid of the dark!
Size: large
Difficulty: very hard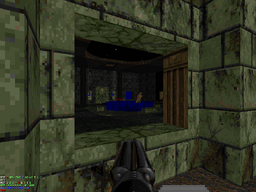 Walkthrough
No real walkthrough here, yet, but a word of advice:
There are two hidden teleporters in the main central area, one in the northeast and one in the southwest - visible as "("-shapes on the map.
Each of those will take you to another section of the level (see map) - but only once! So there is no legal way to return to the two separate sections. Get what you need while you are there!
Secrets
In the large T-shaped blueish room protruding from the walls press the western-most of them. It will lower giving you access to the balcony and the corridor behind it. Find a Computer map, a Blur artifact, a Combat armor and a Soul sphere there.
Speedrunning
See:
Statistics
Map data
Things
Community content is available under
CC-BY-SA
unless otherwise noted.