This level occupies the map slot MAP25. For other maps which occupy this slot, see Category:MAP25.
MAP25: Vulcana is the twenty-fifth map of Whispers of Satan. It was designed by Paul Corfiatis, who also wrote the music track for this level, "Crystaline".
Walkthrough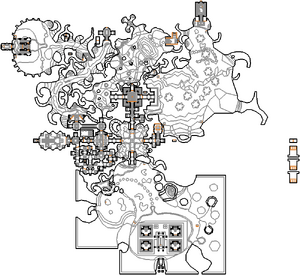 Letters in italics refer to marked spots on the map. Sector numbers in boldface are secrets which count toward the end-of-level tally.
Secrets
In the first hallway you enter, open the wall on the righthand side that has grey on the bottom and is near a pile of gibs. You'll find blue armour and some shells.
In the enormous lava and rock room, jump down the left of the platform you start on and follow the grey path.
There is a huge lava area behind the yellow key door. Here, go to where all the imps are and push the switch to open a cavern at the other side of the area. This cave contains a megasphere.
In the first room behind the red key door, push the righthand pillar closest to where you came in to access the secret.
In the huge lava area, jump to the right of the bridge that leads to the building where the blue key switch. There's a teleporter in a niche here. The wall to the right of the teleporter can be opened. Go through to get to the ledge across form the invulnerability sphere and trigger this secret.
In the same huge lava area, jump into the lava to the right of the building at the end. There's a platform there with a chainsaw and a backpack.
Statistics
Map data
Things
Community content is available under
CC-BY-SA
unless otherwise noted.