This level occupies the map slot MAP24. For other maps which occupy this slot, see Category:MAP24.
MAP24: Clandestine Complex is the twenty-fourth map of the second release of Alien Vendetta. It was designed by Lee Szymanski and Anthony Soto. It uses a MIDI rendition of the Stage 1 theme from the Commodore 64 game The Last Ninja 2, which was composed by Christer Holm. It replaced MAP25: Valley of Echoes, with MAP24: Demonic Hordes moved to the MAP25 slot.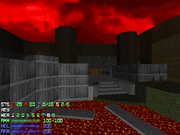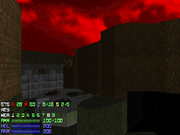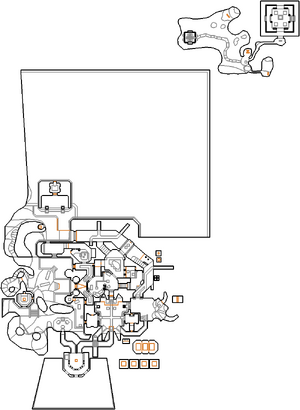 Walkthrough
Secrets
In the yard with the yellow key and red door is a cave with a staircase surrounding a lava pit, at the end of which you need to run across a gap to reach a ledge overlooking the red door. Once on this ledge, face the green section of the cliff face to left, then run off the ledge you're on. You should land on a second ledge below, where some security armor waits.
Return to the upper ledge mentioned in secret 1, but drop of the right side of the ledge onto another, lower ledge (necessary to continue the level). Ahead is a grey staircase leading down. From the grassy portion you're standing on, run onto the left-hand "railing" of this staircase. From the grassy portion of the ground adjacent to the "railing", you can run onto a raised platform below with a rocket launcher and backpack on top.
From secret 2, drop onto the circular gray platform and fall down the open hole. Follow the nukage tunnel to a larger nukage pit, then stand on the platform to lower a nearby lift. Ride it up to a "U"-shaped walkway. From the east end of this walkway, run into the nearby raised nukage tunnel and follow it until you reach an outdoor area with a big pool of nukage, but do not drop down yet. Instead, turn 90 degrees left, where you can see a lower tunnel with a combat armor vest inside. Dropdown onto it and grab the vest.
On the same balcony that the yellow key is on, there's a small elevator platform located behind a big brown crate and some barrels. Step on it to be lowered into a secret area.
After passing through the red door, you'll be on another balcony. There is a short set of stairs leading seemingly nowhere here; climb to the top and drop down to the right onto the raised edge of this balcony. Follow it all the way to the end, where you'll be able to drop onto a brown ledge with some trees on it. Continue along and you'll reach a soul sphere.
Speedrunning
Routes and tricks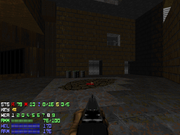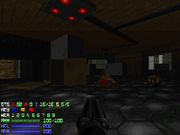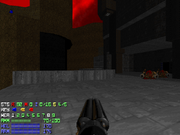 Records
The Compet-N records for the map are:
Statistics
Map data
Things
Alien Vendetta Maps
Regular Maps
MAP24: Clandestine Complex
Hidden Maps
Community content is available under
CC-BY-SA
unless otherwise noted.