This level occupies the map slot MAP23. For other maps which occupy this slot, see Category:MAP23.
MAP23: Whispering Winds is the twenty-third map of the megawad Scythe 2. It was designed by Erik Alm and uses the music track from E2M2 & E5M2 of Heretic.
[[file: |thumb|300px|Map of **]]

Walkthrough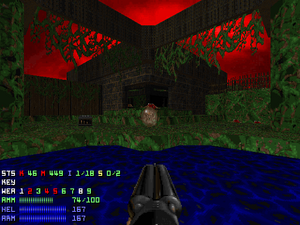 Secrets
Once you make it to the blue bars, you will see a pillar-like structure in the middle of the room. If you look around some more you will find a hole in the wall containing a switch and a box of rockets. To get here you have to get on the ledge to the right side of the hole, and with enough speed and good positioning you can jump from that ledge into the hole. Hitting the switch will lower the pillar in the middle of the room (Reward: a Box of Rockets)
Once you enter the first building you see after you have entered through the blue bars, the way back outside will close. Ignoring that walk left, where you will see a grey demon face on the wall; use your Use/Open key on it (Default Space bar) and a wall will open up on the other side of the room (Reward: 4 Boxes of Rockets, 3 Bulk cells and a Soul Sphere)
Speedrunning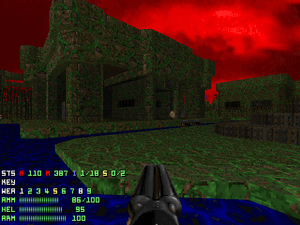 Records
The Compet-N records for the map are:
Statistics
Map data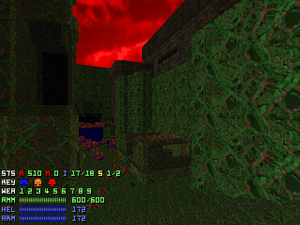 Things
Scythe 2 Maps
Secret Maps
Community content is available under
CC-BY-SA
unless otherwise noted.