This level occupies the map slot MAP23. For other maps which occupy this slot, see Category:MAP23.
MAP23: Tombstone is the twenty-third map of The Plutonia Experiment. It uses the music track "Bye Bye American Pie" from Doom II (the same as Doom II's MAP23: Barrels o' Fun and TNT: Evilution's MAP23: Lunar Mining Project) - indeed, MAP23 of all three official Doom2-type IWADs use this track.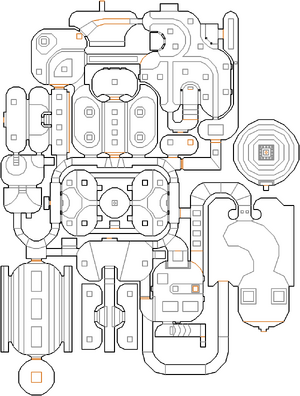 Walkthrough
Secrets
At the very beginning of the level, head straight forward until you hit a wall (which lacks the green slime found on the adjacent walls). Open it to get some rockets.
From the level start, heading either east or west will take you to identical blood-floored rooms. In addition to this main passage running between the two, there are two additional narrow passages to the north and south. Go through the south one (which is lined with armor bonuses). About halfway through you'll see a section of the grey brick wall that lacks the green slime found on the surrounding walls. Open it to get some more rocket ammunition.
There is a yellow door just northeast of the starting rooms. The wall next to it, like the previous two secrets, lacks the green slime on the other walls. There are even more rockets behind it, as well as a teleport pad.
Step onto the (fake) teleport pad in secret #3 to lower a nearby column, revealing a megasphere.
In the blood-floored room the red skull key is in, there is a dark passage off to the south, between two glowing skull decorations. Step onto the platform at the end of this passage and flip the switch to lower the lift to a hidden soul sphere.
Bugs
This level can not be played in Deathmatch, because there are no Deathmatch Starts. This bug is not present in an alternate version of PLUTONIA.WAD found on a specific version of the id Anthology.
Screenshots
Speedrunning
Records
The Compet-N records for the map are:
Statistics
Map data
Things
External links
Plutonia Maps
Secret Maps
Community content is available under
CC-BY-SA
unless otherwise noted.