This level occupies the map slot MAP23. For other maps which occupy this slot, see Category:MAP23.
MAP23: Showdown is the twenty-third level of Memento Mori. It was designed by Milo Casali and uses the music track "Scary 2" by Mark Klem.
Walkthrough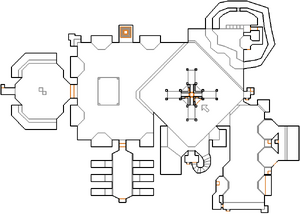 Letters in italics refer to marked spots on the map. Sector numbers in boldface are secrets which count toward the end-of-level tally.
Secrets
There are no official secrets in this level.
Bugs
Some of the items placed at the spawn points of coop players #2, #3 and #4 cannot be collected in single-player mode, but are not flagged as multiplayer only:
Three shotguns (things #7, #8, #9), three super shotguns (things #18, #19, #21), three shell boxes (things #10, #11, #12) and one of the bulk cells (thing #396) placed for player #3.
(The backpacks can be collected without being teleported.)
Speedrunning
Routes and tricks
When doing episode runs, this is the earliest level in which you can obtain a BFG 9000 without losing time. After flipping the switch that reveals the southern side of the level, lower the elevator again, and move quickly to the inner, northwest corner of the "plus," before flipping the switch. A teleporter will be revealed in the east; run into it to grab the BFG, and then open any of the doors and run through to be teleported back. If you are quick, you can telefrag the Arch-Vile in that room on your way out. All of this can be accomplished before the southern portion has finished lowering.
None of the three keycards are required to complete the level. The blue door is too high to impede your path, and a death slide can be performed by killing yourself with a rocket fired at any of the walls in the exit alcove, with your back facing the portal. Your corpse will slide underneath the red and yellow doors, and into the portal, ending the level. This death slide was first demonstrated in a Compet-N recording in Drew "stx-Vile" DeVore's 01:46 UV speed run of this level ([1]).
Current records
The Compet-N records for the map are:
Miscellaneous demos
| Run | Time | Player | Date | File | Notes |
| --- | --- | --- | --- | --- | --- |
| | | | | .zip | |
Statistics
Map data
Things
External links
Community content is available under
CC-BY-SA
unless otherwise noted.