This level occupies the map slot MAP23. For other maps which occupy this slot, see Category:MAP23.
MAP23: Blood Sacrifice is the twenty-third map of Alien Vendetta. It was designed by Kim André Malde and uses the music track "Demons on the Prey" from Doom.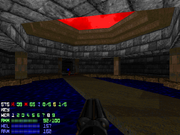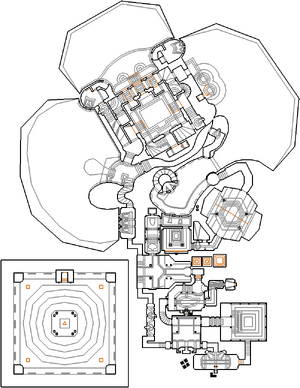 Walkthrough
Secrets
At one point fairly in the level, you have to flip a satyr-faced switch in order to open a nearby door. Behind it is a green torch with an obvious differently-textured wall next to it. To open the wall, look inside the alcove the torch is in. There is a thin opening in the back wall; you can see inside the secret area behind it. On the far wall of this secret room is a green section of wall; shoot this wall through the narrow opening behind the torch to open the nearby wall. Inside is a plasma rifle and some ammo.
Further on, you will reach an outdoor area in which you walk along a parapet and a soul sphere is visible inside an adjacent, but seemingly unreachable castle turret. Make your way to the gap in the parapet wall closest to the turret itself. Notice that one of the bricks below the gap is sticking out a little; you can use it as a stair to run through the gap and into the turret to get the soul sphere.
Once you're inside the fortress in the second half of the level, you need to flip a lion-faced switch on a dock to open some bars elsewhere in the fortress. On the back side of this switch is another, gargoyle-faced switch. Flip it to open a secret room in the fortress wall.
Inside secret 3 is yet another switch. Flipping it removes some bars blocking access to a soul sphere way back in the first half of the map. To get it, return to the start/exit point, cross the nukage bridge, go straight through the archway ahead and up the stairs to the left. The alcove with the soul sphere is in the left-hand wall on this walkway.
At the south end of the map is a room with a soul sphere in front of a lion-faced switch that lowers the floor of the entire room. Like in secret 3, check the back side of the switch for a second switch that opens a nearby secret area. This one contains a BFG.
Speedrunning
Routes and tricks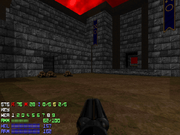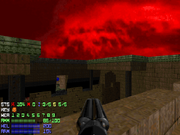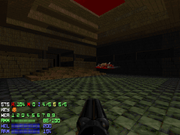 Records
The Compet-N records for the map are:
Statistics
Map data
Things
Trivia
The portal you exit through actually leads to Map24 of the OLD version of AV. But that level was moved to Map25 in the 2002 re-release - so it no longer connects with the next level.
Community content is available under
CC-BY-SA
unless otherwise noted.