This level occupies the map slot MAP21. For other maps which occupy this slot, see Category:MAP21.
MAP21: Twilight Lab is the twenty-first level of Memento Mori. It was designed by Andy Badorek and uses the music track "Mummy Rags" by Mark Klem. This level was first created by Badorek in 1995 as a standalone level, TWILAB.WAD; the Memento Mori version features several modifications for cooperative multiplayer gameplay.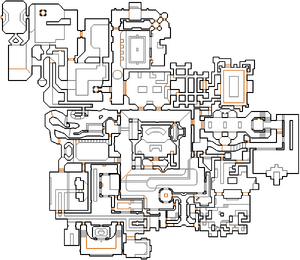 Walkthrough
Secrets
Official
Non-official
From the switch mentioned in official secret #3, proceed to the east, pass the door to the south and follow the walkway. Before descending the stairs, open the differently textured part of the northern wall to find a compartment containing a chainsaw.
After exiting non-official secret #1 and descending the stairs to the west, push the metal wall to your right to lower a lift leading to the the imps' alcoves in the south of official secret #3's hallway where you find a rocket and three health bonuses.
From the point (the first gray crates) mentioned in official secret #4, drop down on the brown crates to the north. Follow the walkway built by these around the corner to the right, jumping over a gap to find a computer map.
Speedrunning
Records
The Compet-N records for the map are:
Statistics
Map data
Things
External links
Community content is available under
CC-BY-SA
unless otherwise noted.