This level occupies the map slot MAP21. For other maps which occupy this slot, see Category:MAP21.
MAP21: Siege, designed by Haggay Niv, is the twenty-first map of Hell Revealed.
Description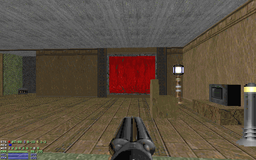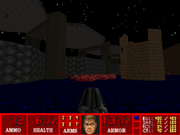 According to the Hell Revealed info pack:
You begin in a haven - a house, in which you will be completely safe. Return here when you need more health or ammo. Outside the house you are unprotected, so be careful.
The endfight scene, the bridge in the night, is a beautiful and yet very hard area - use the switches well, or get a rocket in your face.
Size: small
Difficulty: medium

Walkthrough
Open the door behind the player start, then shoot the TV set with pistol to reveal a plasma gun and cell pack. Take these, and the megasphere on the far wall. Take the SE door outside. Stock up on backpacks, rocket launcher and rocket ammo, then open the wide door in front of the shallow pool. Behind are a group of Barons, either rocket them all or run past. The next door will open automatically to reveal to Arch-Viles, either rocket them too or run past. Turn right and run up a narrow passage to a small room containing a barrel and a former human. Do not fire any weapons in this room, or a large number of monsters will begin to teleport into both this room and the passage outside. Open the small door on the right, and run into the narrow alcove. After a couple of seconds, the blue key will rise out of the floor. Take it, head back down the narrow passage and open the door on the right.
This will reveal a large open area and a long passage to the exit room, containing four Cyberdemons. Run past the Cyberdemons, strafing any rocket fire. In the exit room the path to the switch may be blocked by imps so fire plasma at them as you approach, this will prevent a Cyberdemon rocket catching you in the back.
Secrets
In the living room of the starting-house shoot the TV set to open a compartment in the south wall containing a Plasma rifle and a Bulk cell.
Speedrunning
See:
Statistics
Map data
Things
Community content is available under
CC-BY-SA
unless otherwise noted.