This level occupies the map slot MAP20. For other maps which occupy this slot, see Category:MAP20.
MAP20: Lurking Fear is the twentieth map of Plutonia 2. It was designed by Jochen Schneidau (Angus) and Adolf Vojta (Gusta), and uses the music track "End Is Nigh" by Jamie Robertson.
Walkthrough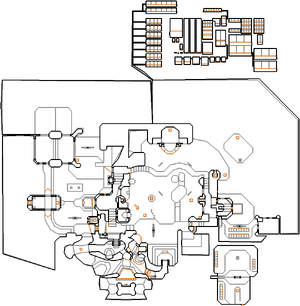 Letters in italics refer to marked spots on the map. Sector numbers in boldface are secrets which count toward the end-of-level tally.
Secrets
Official
After hitting the switch to lower the bars blocking the first skull door, go through that door. Open the wall with the misaligned texture to your right to find a hallway (#1) leading to a backpack and a chaingunner.
When you enter the patio on the eastern section on the map, you will hear a door opening. Proceed to the northeastern corner of this patio and look at west-north-west. Hiding behind the outer corner wall (and maybe beyond the patio railing) is a small gargoyle face door that has opened. Shoot at it, then walk out of the patio and straight ahead past the chaingunner's hiding place into a teleporter. This hidden passageway (#2) contains a chainsaw and soul sphere.
Non-official
An invulnerability sphere can be seen in the blue switch room. Although it does not count as a secret, it is nonetheless non-trivial to reach. Outside of the room, in the toxic blood sea, is a skull switch wall that behaves like a platform and can be lowered to access a rocket launcher, twelve rocket boxes, a radiation suit and a demon. (You have to collect the blue skull key first to be able to access this area.) Stay on this platform until it raises back up. From there, run over the tiny fence post that is next to the skull platform, you should hear a door noise. Lower the skull again to go back to the other side, and turn to the right, you should see a teleport pad which will lead you to the invulnerability sphere.
Statistics
Things
Plutonia 2 Maps
Secret Maps
Community content is available under
CC-BY-SA
unless otherwise noted.