This level occupies the map slot MAP19. For other maps which occupy this slot, see Category:MAP19.
MAP19: NME is the nineteenth map of The Plutonia Experiment. It uses the music track "Suspense" from Doom. "NME" is pronounced "En-em-ee" = Enemy.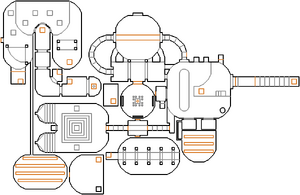 Walkthrough
Secrets
Go through the teleporter straight ahead of you at the beginning of the level. In the next area, follow the path to the other side of the room, where you'll see a switch. Flip it, and it will lower a nearby wall, revealing another teleporter. Rather than going through that one, go back through the one you originally came through. Back in the first area, follow the path around to the right. At the bend in this corridor, another teleporter (flanked by two skull/candle decorations) will now be accessible. Go through to get some goodies.
Trivia
NME was also the name of the third boss in Rise of the Triad, an abbreviation of Nasty Metallic Enforcer. The UK's longest-running and most popular music newspaper, the New Musical Express, is also typically abbreviated NME.
In a tribute WAD to The Plutonia Experiment, titled Plutonia Revisited, Map 11 is given the name "Will You Be My NME?" as a nod to this level.
The beginning of this level can be seen as a homage to original Doom's E2M1: Deimos Anomaly in layout.
Screenshots
Speedrunning
Records
The Compet-N records for the map are:
Statistics
Map data
Things
External links
Plutonia Maps
Secret Maps
Community content is available under
CC-BY-SA
unless otherwise noted.