This level occupies the map slot MAP19. For other maps which occupy this slot, see Category:MAP19.
MAP19: Hecknology is the nineteenth map of Plutonia 2. It was designed by Sam Woodman, Jakub Razák (_MethoD_) and Vincent Catalaá, and uses the music track "Slime Dweller" by James Paddock.
Walkthrough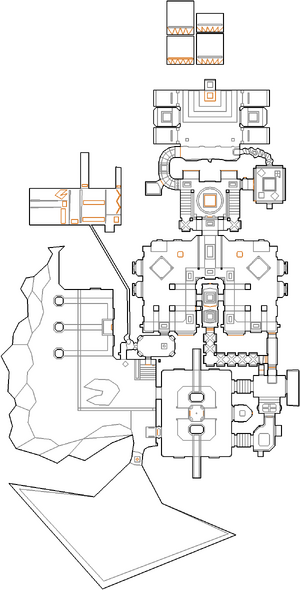 Letters in italics refer to marked spots on the map. Sector numbers in boldface are secrets which count toward the end-of-level tally.
Secrets
After going into the starting room for the second time, go through the door and to the right. The first column on the right after the green torch can be lowered for an invulnerability sphere (not on easy skill levels) (#1).
In the room with the rocket launcher, take the lift up to a room with four columns of boxes scattered. Climb up the column of boxes that resemble stairs, then jump into the hole in the wall with the weeds. Turn around and in the front right corner, is a gargoyle-shaped face near the ceiling. Shoot this face to open a wall nearby with a plasma gun and a soul sphere (#2).
After lowering the four columns with the switch in the rocket launcher room, the wall on the left at the third step can be opened for three stimpacks, two medikits and a blue armor (#3).
Statistics
Things
Trivia
During development this map was called "Run Alone Through the Uric Acid".
Plutonia 2 Maps
Secret Maps
Community content is available under
CC-BY-SA
unless otherwise noted.