This level occupies the map slot MAP18. For other maps which occupy this slot, see Category:MAP18.
MAP18: Lake Poison is the eighteenth map of Alien Vendetta. It was designed by Anders Johnsen and uses the music track "Death's Bells" from MAP04 of TNT: Evilution.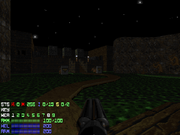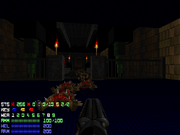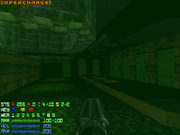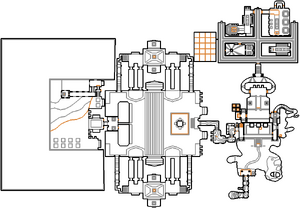 Walkthrough
Lake Poison is a large map with intimidating fights that would be a lot trickier but for the extremely generous supply of health and ammo. There are a few traps along the way to gathering the three keys, most notably a Hell Knight ambush on the bridge near the first Spider Mastermind, and an army of Imps that teleport into the nukage-filled halls at the north-east of the level. Near the end of the map is a huge battle with ten Spider Masterminds and assorted other monsters, but cells and Soul Spheres are so plentiful here that the room can be easily cleared by charging around with BFG blazing.
Secrets
Behind the BFG on the east side of the map is a computer panel. Open it and follow the path up and around to get a soul sphere.
In the room with the yellow keycard, there are three red alcoves in the north wall. Run from the walkway into the leftmost alcove and open the back wall. Follow the path around and open the dead-end wall to get the soul sphere in the rightmost alcove.
Speedrunning
Routes and tricks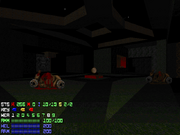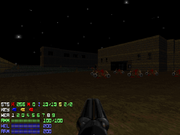 Records
The Compet-N records for the map are:
Statistics
Map data
Things
Community content is available under
CC-BY-SA
unless otherwise noted.