This level occupies the map slot MAP18. For other maps which occupy this slot, see Category:MAP18.
MAP18: Hard Attack, designed by Yonatan Donner, is the eighteenth map of Hell Revealed. It uses the music track "I Choose the Stairs" from Rise of the Triad.
Description
According to the Hell Revealed info pack:
Hunted (Plutonia Experiment level 11) was frightening, definitely. But this level can make you fear even more. Where are those laughing archviles? Where are all those enemies teleporting? What are those metallic steps? There are traps everywhere you go, and some very unique areas. See if you can chase that cyberdemon to his death, or yours? This dark base is occupied with so many enemies that you might encounter problems when trying to save the game in the first room. If that happens, just save after the first room.
Size: large
Difficulty: hard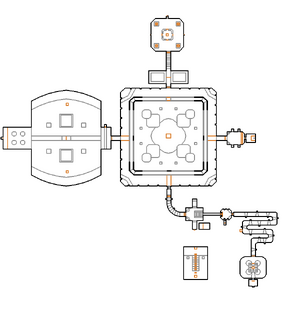 Walkthrough
Secrets
Upon leaving the very first room a door is triggered and stays up for some seconds down the winding corridor (in the 4th bend). Behind it is a teleporter that leads to a hidden area with stairs and quite some ammo in it: 4x Bulk cell, 4x Box of shells and 2x Shotgun shells. As you enter the area many monsters come teleporting in (and teleporting wildly around the place) but since there is a Megasphere there, too, you just have to survive and will walk out through the teleporter on top of the stairs good as new.
West from the large Cyberdemon-area there is an area with some Baron of Hells on pillars and some Imps and Mancubi on ledges. Behind the northern torch of the ledge you enter from is a secret door revealing a Blur artifact.
Speedrunning
See:
Statistics
Map data
Things
Community content is available under
CC-BY-SA
unless otherwise noted.