This level occupies the map slot MAP18. For other maps which occupy this slot, see Category:MAP18.
MAP18: Cargo Bay is the eighteenth level of Icarus: Alien Vanguard. It is set in the cargo bay of the exploration cruiser, Icarus, and was designed by Andrew Dowswell.
Walkthrough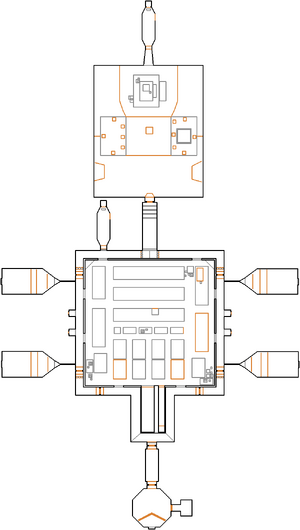 Letters in italics refer to marked spots on the map. Sector numbers in boldface are secrets which count toward the end-of-level tally.
Secrets
At the map start, the eastern wall has a barrel in front of it. Destroy it and open that wall to find a backpack, a plasma gun, a chainsaw, a chaingun, a box of shotgun shells and an energy cell (sector 152).
In the storage area, part of the southern wall is oriented higher than the rest. Press on it to reveal a tunnel (sector 80) containing a blue armor and a teleporter.
Enter the teleporter in secret #2 to be taken to another room (sector 83) with three energy cells, two bullet boxes and a BFG9000. Press on the northern wall to exit.
Bugs
There are some pairs of unavoidable (at least one of each pair is triggered) Linedefs arranged like an upside-down V at the map start in single-player and coop mode, opening (Linedefs 497 and 498, Type 38 - W1 Floor Lower to Lowest Floor, Tag 12) doors that stay closed in a deathmatch and closing (Linedefs 722 and 723, Type 5 - W1 Floor Raise to Lowest Ceiling, Tag 15) the door to the deathmatch exit room.
In Addition there is a pair of Linedefs (720 and 721, Type 110 - W1 Door Close (fast), Tag 60) closing the already closed northernmost door (sector 142) south of the yellow one. Not only that this pair of Linedefs is needless, if not both are triggered before opening (Linedef 683, Type 112 - S1 Door Open Stay (fast), Tag 60) that door (it can be opened only once), one may trigger the unused Linedef after opening it, thus shutting it for good and keeping all players unable to exit the map.
To avoid this, move at the map start from the southernmost wall once straight to the western wall (between the two clips) and from the southernmost wall once straight to the eastern wall (next to the barrel), thus triggering both Linedefs.
Speedrunning
Current records
The records for the map on the Doomed Speed Demos Archive are:
Miscellaneous demos
Statistics
Map data
Things
External links
Icarus Maps
Secret Maps
Community content is available under
CC-BY-SA
unless otherwise noted.