This level occupies the map slot MAP17. For other maps which occupy this slot, see Category:MAP17.
MAP17: Nukefall is the seventeenth map of Alien Vendetta. It was designed by Anders Johnsen and uses the music track "Into the Beast's Belly" from MAP08 of TNT: Evilution.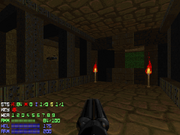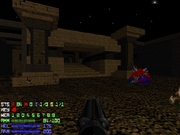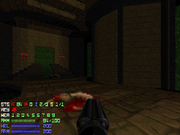 Walkthrough
Nukefall is a small but quirky level; the trickiest bit is the Cyberdemon in close quarters guarding the BFG near the start. The easiest way to kill him is to grab the BFG, get a good shot in, then refill on cells in the courtyard upstairs. Two Barons of Hell probably woke up during the commotion, and will now be roaming around the bottom of the stairs with the Cyberdemon; while these three infight finish off the Cyberdemon with the BFG.
The remainder of the level is relatively easy - the Revenants overlooking the courtyard can be safely sniped through the red key pillars. Ammo is tight, so be sure to save enough cells or rockets for the ten Archviles guarding the exit.
Secrets
From the red skull key, walk forward a bit and drop into the small nukage pit. Go through the teleporter to reach a secret area with some security armor and a box of rockets.
Speedrunning
Records
The Compet-N records for the map are:
Statistics
Map data
Things
Community content is available under
CC-BY-SA
unless otherwise noted.