This level occupies the map slot MAP17. For other maps which occupy this slot, see Category:MAP17.
MAP17: Nuclear Horror is the seventeenth map of Plutonia 2. It was designed by Adolf Vojta (Gusta), and uses the music track "Night Run" by Stuart Rynn.
Walkthrough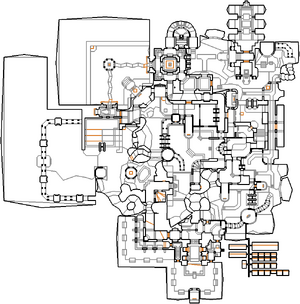 Letters in italics refer to marked spots on the map. Sector numbers in boldface are secrets which count toward the end-of-level tally.
Secrets
Directly north of the yellow keycard, you will see a gray stone wall with some large holes in it. Pull it down, kill the revenant (arch-vile on hard skill levels), and follow the bridge path (#1) to a soul sphere.
Again from the yellow keycard, head north and drop down into a poison pit. Turn right into the hallway, and go all the way outside and under the aqueduct columns. The east side of this aqueduct has a large base with a lightning symbol on it. Pull it down for four rockets and a backpack (#2). (Or, If you just collected the soul sphere mentioned in secret #1, just walk straight north falling into the pit.)
From the aqueduct near secret #2, climb the small staircase to the southeast, then head straight up an eastbound staircase to a blue armor. Walk into the paneled window, up the stairs and around the corner until you reach another poison pit. You will see a stack below, of what appears to be three computers wallpapers one on top of the other. Pull them down, then ride them up to get to a blue armor (#3).
Statistics
Things
Trivia
Amongst possible names for this map during development were Tullamore Dew, Mountainside Keep and Mountain DOOM.
In the initial release of Plutonia 2, the DEHACKED patch incorrectly names this map Mountain DOOM, but the map's title graphic (the lump named CWILV16) correctly calls it Nuclear Horror. An upcoming re-release of the WAD will correct this issue.
Including the secret and super secret levels, this is the sixth level in a row to include a Cyberdemon.
Plutonia 2 Maps
Secret Maps
Community content is available under
CC-BY-SA
unless otherwise noted.