This level occupies the map slot MAP17. For other maps which occupy this slot, see Category:MAP17.
MAP17: Dens of Iniquity is the seventeenth map of Requiem. It was designed by Michael Rapp, and uses the music track "Tides of War" by Jeremy Doyle. The blue and yellow keys in this level change location depending on the skill level used, the latter altering the route taken to finish the level.
Description
According to both the text file and the Requiem info pack:
Dens of Iniquity. Big deal, you say to yourself as you read the sign alongside the road pointing to the area up ahead. With the sun lowering in your squinted eyes, you look ahead for signs of trouble. Your finger is reaching for the safety on your shotgun as you open the first door that you come to. You take a deep breath and step inside. The door closes swiftly behind you as you strain to see through the murky darkness. As your eyes slowly adjust you hear it, within seconds it descends upon you...
Walkthrough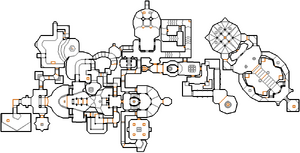 Letters in italics refer to marked spots on the map. Sector numbers in boldface are secrets which count toward the end-of-level tally.
Essentials
Hurt Me Plenty or lower:
Ultra-Violence or higher:
Secrets
In the brick room south of the area where the blue key is found, there is a section of wall with the gaps between bricks lined with dirt, with pillars at either side of it, and some shells laying in front of it (one set on Hey, Not Too Rough or lower, and three sets on Hurt Me Plenty or higher.) Open it to find a small room containing an armor bonus and a rocket launcher on Hey, Not Too Rough or lower; an armor bonus, two rockets, and a rocket launcher on Hurt Me Plenty; and an armor bonus, a medikit, two rockets, and a backpack on Ultra-Violence or higher. The pedestal that the rocket launcher and backpack are found on counts as a secret. (sector 303)
Areas / screenshots
Speedrunning
Current records
The Compet-N records for the map are:
Miscellaneous demos
| Run | Time | Player | Date | File | Notes |
| --- | --- | --- | --- | --- | --- |
| | | | | .zip | |
Statistics
Map data
Things
External links
Requiem Maps
Secret Maps
Community content is available under
CC-BY-SA
unless otherwise noted.