This level occupies the map slot MAP16. For other maps which occupy this slot, see Category:MAP16.
MAP16: The Path, designed by Yonatan Donner, is the sixteenth map of Hell Revealed. It uses "Watz Next?," the ending music from the shareware version of Rise of the Triad.
Description
According to the Hell Revealed info pack:
An underground level. First make the way to reach the bridge, and then get the two keys you will need in order to leave this bloody realm of danger and fear and rise to the surface...
Size: large
Difficulty: hard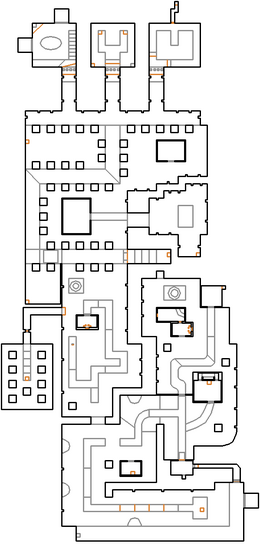 Walkthrough
Secrets
Follow the path from the starting point to the north - you will eventually face a small compartment with a blue-barred switch in it. North of that compartment is a smal isle with a blue torch and some Hell Knights on it. And north (and a step west) of that isle there is a walkthrough wall with a Soul sphere in it.
In the very north of the map in the eastern cage-separated area with the Hell Knights in it there is a door hidden in the north wall (directly noth of the Berserk pack with a Radiation suit and a teleporter in it.
Speedrunning
See:
Statistics
Map data
Things
Community content is available under
CC-BY-SA
unless otherwise noted.