This level occupies the map slot MAP16. For other maps which occupy this slot, see Category:MAP16.
MAP16: The Omen is the sixteenth map of The Plutonia Experiment. It uses the music track "Untitled (Mouth For War)" from Doom.
The red key is not necessary because the switch behind the red door lowers a teleporter that you can just as easily jump onto from a neighboring platform. (In that sense, this map is the opposite of MAP12 from Doom II, in that there is a red door but no red key).
Walkthrough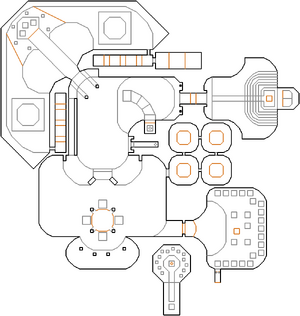 Pretty straightforward - no big surprises anywhere
The area in the top left only spawns once you've picked up the key and fired a shot through it, so retreat back to the raised courtyard wall and clean them out. otherwise they'll come in behind you. You can also jump off the ledge containing the key to either side, and you will teleport back to the beginning of the plank, which is a good way to telefrag an enemy or two.
Same thing with the square around the key in the south area - they only spawn once you start shooting.
The teleport to the exit is on the center platform of the front three in the courtyard with all the troopers in it.
Secrets
There are no official secrets in this level.
Screenshots
Speedrunning
Records
The Compet-N records for the map are:
Statistics
Map data
Things
External links
Plutonia Maps
Secret Maps